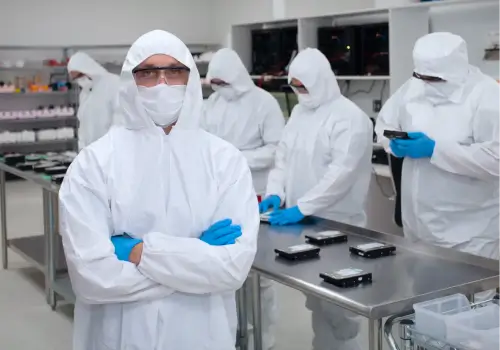 The Data Recovery Company
Secure Data Recovery Services is the trusted RAID, SSD, and Hard Drive Recovery authority. Since 2007, our SSAE18 SOC1, 2 and 3 security audited process has saved lost data from over 100,000 failed devices with a documented 96% success rate.
We are ready to deliver results for you with a "No Data, No Recovery Fee" guarantee, anywhere and at any time.
Our customers rate our services:
We Helped Thousands Get Their Lost Data Back.
With over 106 satisfied customers and growing, we are proud to provide outstanding customer experience and quality service that consistently exceed customer expectations.
View All
What Can We Recover For You Today?
Secure Data Recovery Reviews
Natalie Thornhill Pirro
Reviewed on Sep 17, 2023 | Mississippi Mills, ON
My Western Digital hard drive stopped working. I reached out to Secure Data and within minutes I received a call from Jonathan. Their service was fast, the communication was excellent, and now I have the years and years of family photos back! Thank you! I recommend Secure Data!
Maia Lee-Thomas
Reviewed on Sep 13, 2023 | Oakville, ON
I'm really glad I chose to go with SDR for getting my files back from my corrupt external hard drive! My rep Elliot Fisher was SUCH a huge help. Very knowledgeable and answered all my questions professionally and patiently. He informed me every step of the way and accommodated my needs where needed. I was able to get back all my files! Thank you so so much to the entire team at SDR.
David Chatten
Reviewed on Sep 07, 2023 | Quinte West, ON
If you need it back, they can save you!!
I just wanted to share my incredible experience with Elliot Fisher and the team at Secure Data Recovery in Toronto. As a lawyer, I had a hard drive that had been to numerous repair shops and was deemed unrepairable. It contained vital data that was crucial for my court cases. However, Elliot and his team took on the challenge.

They meticulously took the hard drive apart and rebuilt it p... Read Moreiece by piece, replacing broken parts along the way. Miraculously, they were able to recover all the lost data, including years of precious memories and personal information. To my relief, 20 years'' worth of photos were saved!

I must admit that the service was not cheap, but the results were absolutely worth it. When it comes to court or business needs, Secure Data Recovery is the go-to option. Their expertise and dedication are unmatched.

The best part was the remarkable turnaround time. I sent them the hard drive and within just four days, they had successfully recovered everything. I cannot express the relief and gratitude I felt knowing that my crucial data was back in my possession.

If you find yourself in a similar situation, I highly recommend Elliot Fisher and the team at Secure Data Recovery. Their professionalism, expertise, and commitment to customer satisfaction are truly exceptional.

Sincerely,

David Chatten
Nils Lenz
Reviewed on Sep 01, 2023 | Zephyrhills, FL
Excellent Service by Jacon
Jacob Medina provided an EXCELLENT in the process of recovery the data in my Western Digital Passport portable hard drive in a very expeditious matter!
MD Nasimuzzaman Chowdhury
Reviewed on Aug 16, 2023 | Pickering, ON
The Secure Data Recovery service is honestly the best in recovering data. They are being so helpful all the time in all aspects regarding service, cost consideration, timeline, followups etc.
I wanted to thank you for helping on my case and prioritizing it. Best wishes.
Jamison Cooper-Leavitt
Reviewed on Jul 20, 2023 | Calgary, AB
As data recovery is typically expensive, it was well worth getting my data back. Thanks to Secure data and their very knowledgeable team for the quick and fast service. Jonathan Nguyen gave us really good custom care and I would certainly do business with Secure Data again if needed.
Secure Data Recovery Process
1
Free
Consultation
Power down the device and call us, 24x7 for a free consultation and quote.
2
Free Professional Diagnostics
Submit your device at one of our locations for a non-destructive evaluation by a data recovery expert.
3
Review &
Decide
Review the diagnostic results and approve the work order at a set price, payable upon success with our "No Data, No Recovery Fee Guarantee".
4
Data Recovery & Return
Submit payment and receive your recovered data on a new external drive.
Find Secure Data Recovery near you
About Us
Secure Data Recovery Services was started in 2007 with a single location and over the past decade grew into one of the world's largest data recovery companies helping customers recover data with extraordinary capabilities. Powering the success behind our world class services are the talented teams of engineers who develop our state-of-the-art tools and procedures which enable us to recover data from the most challenging data loss circumstances.
Our team is truly passionate about data storage and thrives on the customer satisfaction which comes from reuniting users with their lost data. Our goal is to deliver the best results technologically possible while maintaining the strictest security controls through our numerous industry specific security attestations including regular SSAE18 SOC, 1, 2 & 3 audits.
Secure Data Recovery Services has built a solid reputation as the most trusted data recovery provider with a fully transparent and certified process demonstrating that our facilities, processes, and staff exceed industry standards.
From single external hard drives, SSD's, mobile devices to enterprise NAS, SAN, and RAID failures, we are ready to help recover from digital disasters, anywhere.
Partners with Industry Leading Manufacturers
Frequently Asked Questions
What is data recovery?

Data recovery is the process of restoring data that has been lost, accidentally deleted, corrupted, or made inaccessible for some reason. This can be done through a variety of methods, such as using specialized data recovery software to retrieve the data from a damaged storage device, or by using a data backup to restore the lost information. Data recovery is often necessary when a storage device fails, a malware infection or a virus attack attack destroys important files, or a natural disaster causes data loss. It can be a time-consuming and complex process, but it can also be crucial for businesses and individuals who need to access their important information and files.

How to prevent data loss?

If its your only backup then its not a backup. All drives will fail, it is just a matter of time. The best way to prevent data loss and eliminate the need for data recovery is to be proactive. The data recovery solution to permanent data loss has always been the 3-2-1 backup rule. Always save 3 copies of your important files on 2 independent storage devices with one being offsite and even better if offline and disconnected from the internet to prevent malware and ransomware infections.

Can deleted files be recovered with free data recovery software?

In most cases yes. Generally those situation are limited to a user accidentally emptying the recycle bin containing important files. In this case recovery programs can help with a "simple file deletion" problem. However when the hard drive, USB flash drive, memory card, internal or external hard drive has been reformatted, lost partition or partially overwritten then file recovery will require some more sophisticated professional data recovery tools generally requiring a fee to perform a deep scan. Before performing any scanning for deleted data with any software make sure to create an image of the drive and never install any software or recover data to the same source drive as that can overwrite the deleted data. If the data absolutely cannot be lost contact a professional data recovery company for assistance.

How will I get my recovered data back?

When you choose Secure Data Recovery your data will come back on a new external hard drive of your choice formatted for Windows NTFS or MacOS APFS upon request. Although data recovery often requires the storage device to be repaired to a working condition the original media is never used as the storage media for the newly recovered data since it most likely will fail again under normal operating conditions. Your data recovery advisor will walk you through the options at the end of the process.