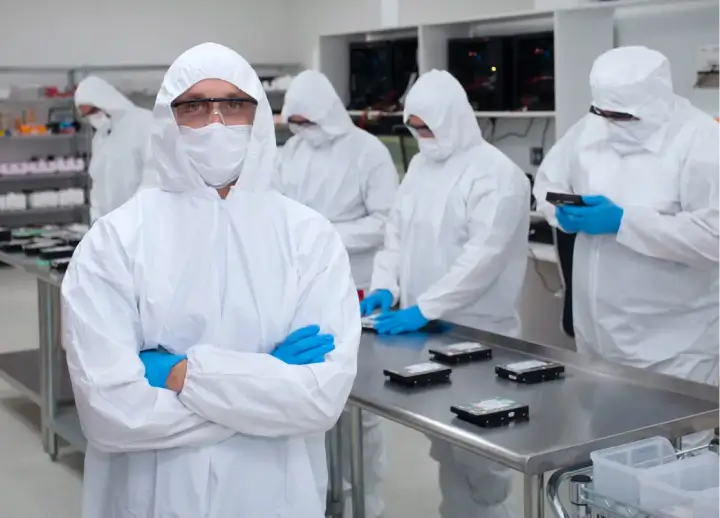 The Data Recovery Company
Secure Data Recovery Services is the trusted RAID, SSD, and Hard Drive Recovery authority. Since 2007, our SSAE18 SOC1, 2 and 3 security audited process has saved lost data from over 100,000 failed devices with a documented 96% success rate.
We are ready to deliver results for you with a "No Data, No Recovery Fee" guarantee, anywhere and at any time.
What Can We Recover For You Today?
Secure Data Recovery Process
1
Free
Consultation
Power down the device and call us, 24x7 for a free consultation and quote.
2
Free Professional Diagnostics
Submit your device at one of our locations for a non-destructive evaluation by a data recovery expert.
3
Review &
Decide
Review the diagnostic results and approve the work order at a set price, payable upon success with our "No Data, No Recovery Fee Guarantee".
4
Data Recovery & Return
Submit payment and receive your recovered data on a new external drive.
About Us
Secure Data Recovery Services was started in 2007 with a single location and over the past decade grew into one of the world's largest data recovery companies helping customers recover data with extraordinary capabilities. Powering the success behind our world class services are the talented teams of engineers who develop our state-of-the-art tools and procedures which enable us to recover data from the most challenging data loss circumstances.
Our team is truly passionate about data storage and thrives on the customer satisfaction which comes from reuniting users with their lost data. Our goal is to deliver the best results technologically possible while maintaining the strictest security controls through our numerous industry specific security attestations including regular SSAE18 SOC, 1, 2 & 3 audits.
Secure Data Recovery Services has built a solid reputation as the most trusted data recovery provider with a fully transparent and certified process demonstrating that our facilities, processes, and staff exceed industry standards.
From single external hard drives, SSD's, mobile devices to enterprise NAS, SAN, and RAID failures, we are ready to help recover from digital disasters, anywhere.
Partners with Industry Leading Manufacturers
Frequently Asked Questions
How does the data recovery process work?

At Secure Data Recovery Services, our goal is to provide a streamlined, simple process that returns your data as quickly as possible.

We start each case with a risk-free evaluation. Our engineers will perform a series of tests to determine whether your device contains recoverable data, at which point we can provide a price quote, turnaround estimate and a list of recoverable files. If you do not wish to proceed with recovery after receiving your evaluation, we can return your media. We do not charge for our standard media evaluations, and we offer a "no recovery, no fee" guarantee with every case.

If you accept the price quote, we will treat physical media issues using safe, tested technologies. Our engineers always work in a controlled environment; see our Class 10 ISO 4 Cleanroom certification page for more information. We then make a copy of your drive and treat logical (software-based) issues to restore your files to a working condition.

When this process is complete, we will send you a full list of recovered files. We can transfer select files to you via secure FTP or return all of your data on an external hard drive or other device.

How much does data recovery cost?

Like all reputable data recovery companies, we do not offer flat-rate pricing. Dozens of factors can affect the difficulty of the recovery process, and as such, costs vary from case to case. We will provide an accurate price quote after evaluating your media.

For general price ranges, call our 24/7 customer service department to discuss your case. Be sure to explain any failure symptoms that might indicate the cause of data loss, e.g. error messages, unusual noises and notable events that preceded the failure.

How should I pack my drive for shipping?

Hard drives are extremely sensitive devices, and they can take on serious damage during shipping. To safely send your hard disk to Secure Data Recovery Services, place it in an anti-static bag and lightly tape the sides of the bag to prevent the drive from slipping out during shipping. You can find anti-static bags at most electronics stores.

Protect your drive with 5 or more inches of bubble wrap on all sides. Alternately, some shipping companies carry specialized containers designed for hard drives.

If you need to ship a laptop, RAID array or another device, get help from a professional shipping company or call our customer service team for instructions.

How will my data be returned?

We typically return recovered data on external, USB-capable media. You can provide media with your original shipment or purchase external media from Secure Data Recovery Services.

We carry an extensive selection of external devices ranging from DVD-Rs to 128 GB flash drives to 30 TB direct-attached storage (DAS) appliances. Your return media options may vary depending on the size of your recovered files. We will review return media options when setting up your case and help you make an appropriate choice.

How long does the recovery process take?

Turnaround times vary depending on the media failure scenario and by service level. For our standard data recovery service, we offer an industry-leading average turnaround of 2-5 business days.

We also offer 24/7/365 services, which provide an ideal resource in emergency scenarios. Our engineers can successfully recover most of these cases in under a day.

We will provide you with an accurate turnaround estimate after evaluating your case. If your case completion time is set back for any reason, we will provide you with timely updates to help you make appropriate disaster recovery arrangements.

What is your success rate?

Success rates also vary by media type. Our overall recovery success rate is 96 percent, and we always provide an accurate individual analysis of your case before starting work.

What types of devices can you recover?

Secure Data Recovery Services specializes in media repair, data conversion and data recovery. Our facilities are fully outfitted for virtually every type of digital media.

We can treat:

All Types of Hard Drives
Flash Drives and USB Drives
All Types of RAID Configurations
Solid-State Drives and Hybrid Drives
iPods, iPhones and iPads
Virtual Servers and Virtual Drives
Data Tapes and Cartridges
Zip Drives, Floppy Drives and More

We have experience with Windows, Linux, Mac OS X, UNIX, Solaris and all other operating systems. To put it simply, if your device stores digital data, we can recover it.

Can you recover individual databases?

Absolutely. We specialize in SQL data recovery and email archive recovery, and our engineers have experience with every file system and failure scenario. If you need access to deleted files, corrupt databases or any other unreadable data, Secure Data Recovery Services can help.

Can you return a bootable copy of my data?

Not usually. In most cases, our return media is not boot-ready due to unavoidable issues with popular consumer-level operating systems.

However, if you need to recover a boot-ready drive for a specific reason (for instance, if the drive contains a proprietary operating system), our specialists will review recovery options to create an effective strategy for your case.

Should I set up an appointment before visiting?

Calling ahead will ensure fast case processing. Our customer service team will issue you a case identification number, discuss pricing options and take basic information about your media failure.

However, you do not need to make an appointment in order to bring your media to one of our facilities. We encourage our clients to drop in on our offices, and we offer pickup services for 24/7/365 emergency cases.

Why should I choose Secure Data Recovery?

We offer the best combination of media security, experience and data recovery technology available anywhere. Secure Data Recovery Services' engineering teams have decades of combined experience, and we perform extensive background checks on our staff to guarantee the best possible protection of our clients' media.

Other reasons to choose Secure Data Recovery Services:

24/7/365 Access to Customer Service
More than Two Dozen Physical Locations
Certified Class 10 ISO 4 Cleanroom Data Recovery
Advanced Security Controls and Credentials
Industry Leading Turnaround Times

If you need more reasons to choose Secure Data Recovery Services, visit our testimonials page to view letters from some of our satisfied clients. We can also provide references on request.

Should I remove hard drive from my computer before bringing it to you?

While our engineers do not need anything other than your hard drive to perform a data recovery evaluation, you do not need to remove your drive from your computer if you are uncomfortable with this process. You can bring your entire computer, server or other device to one of our offices to have our specialists will safely remove your drive from your computer.

Will my data remain confidential?

Yes. Unless we are legally obligated to do so, we will never share your data with a third party. Additionally, our engineers will directly access your files unless you specifically ask them to verify key data.

Secure Data Recovery Services uses strict protocols and networks to keep client information safe. We were the first data recovery provider to earn SSAE 18 Type II certification, and we regularly update our security systems to maintain compliance with HIPAA, FERPA and various other laws.

When you send your media to our offices, you can rest assured that we will take every possible step to keep your data confidential.

Do you keep a copy of my data?

We keep a backup of your data for 14 days on protected servers to guard against shipping issues and other unexpected events. After 14 days, our engineers securely delete this data using Department of Defense standards.

Do you provide a guarantee?

Yes. Secure Data Recovery Services was one of the first providers to offer a no recovery, no fee policy. If we cannot recover your data, you will not pay.

Before billing you, we will verify that your recovery by asking you to approve a detailed list of recovered files. You can also receive screenshots or remotely view your files on request. We only charge after successfully retrieving our clients' data.

We are able to offer this policy thanks to our high success rates and our streamlined data recovery process.