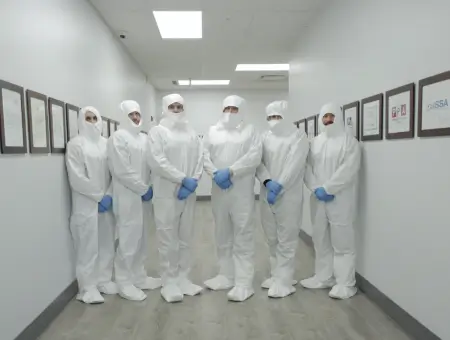 Certifications
Secure Data Recovery Services maintains numerous technical and security certifications that attest to the quality of our data recovery operations and the strength of our cybersecurity management control systems. All third-party audits of our facilities and services are easily accessible from our website. Our customers across North America know that they can trust their failed media to our care in the knowledge that we'll do everything technologically possible to restore their lost data quickly, securely, and transparently. Contact our award-winning customer support team for more details about our certifications.

SSAE 18 Compliance
Secure Data Recovery Services undergoes rigorous SSAE 18 SOC 2 Type II and SOC 3 audits of its cybersecurity management control systems. These audits demonstrate our commitment to maintaining the highest levels of data security throughout our company.
Organizations of all sizes - including government agencies, the military, and multinational corporations - trust us with their most confidential and sensitive data. We honor that trust by ensuring that it remains protected throughout every stage of the recovery process.
Secure Data Recovery Services engineers regularly conduct complex physical data recovery, which requires invasive physical repairs conducted in a certified Class 10 ISO 4 cleanroom. They also use custom-designed or modified software utilities to recreate file systems and partition table information during intensive logical data recovery operations.
Our company submits to advanced SSAE auditing standards that would normally apply to data service organizations, Software-as-a-Service (SaaS) providers, and enterprise data centers. We take these extra steps to certify that any customer data entrusted to our care is safe from unauthorized access.
TRUSTe Verification
As a TRUSTe certified company, Secure Data Recovery Services offers verified privacy practices that have been reviewed against the EU-U.S. Privacy Shield Framework administered by the U.S. Department of Commerce.
We use appropriate methods to collect, process and store client information, and all personally identifiable data is protected with a system of physical and electronic controls. Secure Data Recovery Services never sells personally identifiable information without our clients' prior consent, and our privacy policy contains a detailed description of our data sharing policies.
As a privacy certification program participant, our privacy practices and policies undergo annual verification by a third party. When you send your media to us, you can have complete peace of mind that your payment information, personal documents and other protected data is secure at every stage of the recovery process.
Certified Class 10 Cleanrooms
Secure Data Recovery Services operates fully certified Class 10 ISO 4 cleanrooms in its data recovery labs to ensure safe, reliable results for our clients. Cleanroom technology plays an extremely important role in the data recovery process.
In a professional laboratory, the cleanroom is a specialized environment that uses state-of-the-art filtration to eliminate harmful particles from the work environment. This prevents media components from taking on serious damage during repairs.
Cleanrooms are complex environments, and in addition to highly accurate filters, they employ unidirectional airflow, temperature, and humidity controls to eliminate airborne particles. Engineers need to wear specialized clothing while working in cleanrooms, and data recovery companies need to regularly test equipment to maintain certifications.
To understand why physical data recovery procedures require a cleanroom, it is helpful to consider the sensitivity and precision of a hard drive's read/write heads. When a hard drive is opened, engineers need to prevent contamination from airborne particulates.
Any foreign object larger than a few microns that comes between the heads and platters will complicate the recovery process and can even lead to additional damage or permanent data loss. An appropriately maintained and certified cleanroom can prevent this from occurring.
GSA Approved Contractor
Secure Data Recovery Services is a member of the General Services Administration's schedules. As an approved contractor, we offer data recovery resources for hundreds of military and government institutions throughout the United States.
The GSA schedules are an essential tool for federal agencies, local government, and state government decision makers. By establishing contracts with qualified companies, the GSA helps to limit expenses while controlling the quality of service. This is particularly important when dealing with information technology contractors.
In order to earn a contractor designation under the General Services Administration schedules, we submit a report with detailed service information including rate estimates for different types of services and an overview of our security credentials.