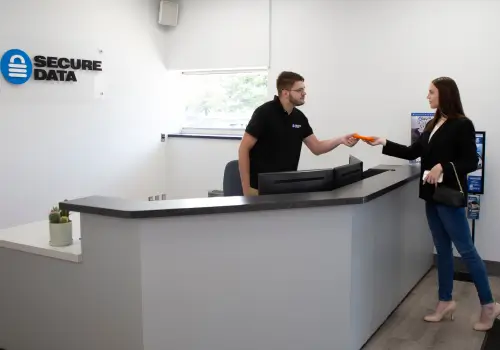 Data Recovery Services in Ottawa - RAID, SSD & Hard Drive Recovery
We have provided citizens of the National Capital Region with data recovery in Ottawa since 2007. Now, recovering your lost files is more convenient than ever, given our partnership with Memory Express, Canada's top computer products and services retailer. Visit us at 1516 Merivale Road, located in the City View Plaza, in Ottawa's West End.
Trust the experts for hard drive data recovery in Ottawa.
Our customers rate our services:
We Helped Thousands Get Their Lost Data Back.
With over 106 satisfied customers and growing, we are proud to provide outstanding customer experience and quality service that consistently exceed customer expectations.
View All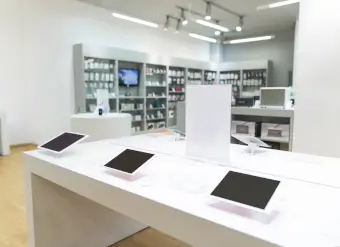 Secure Data Recovery Services
Emergency Services Available 24x7
Ottawa Data Recovery Company
Secure Data Recovery is proud to partner with a leading retailer like Memory Express.
Together, we have reimagined data recovery services in Canada.
Memory Express built its business on the concept of commitment. A commitment to offering the best service, selection, and savings. For over 25 years, Memory Express has honored that commitment to their customers. They continue to serve Canadians from Ontario to the Prairies and Pacific Northwest, providing exceptional service, one person at a time.
At Secure Data Recovery, we share that vision. Since 2007, we are the authority in hard drive recovery, SSD recovery, and RAID recovery. We have helped thousands of individuals and businesses of all sizes in Winnipeg and Manitoba recover from every data loss scenario. But most importantly, we understand the value of your data, and our experienced engineers are ready to reunite you with your lost files. In addition to our flexible Economy and Standard options, we offer Emergency services for those that need their data immediately.
Do not let sudden data loss become permanent. The experts at Secure Data Recovery and Memory Express will deliver the results you are looking for.
What Can We Recover For You Today?
In addition to hard drive recovery and RAID recovery, we specialize in complex data loss solutions for SSD drives and other NAND-based flash memory devices, iPhones and Android smartphones, network-attached (NAS and SAN) storage systems, and virtual machines.
Ottawa , ON Data Recovery Reviews
Natalie Thornhill Pirro
Reviewed on Sep 17, 2023 | Mississippi Mills, ON
My Western Digital hard drive stopped working. I reached out to Secure Data and within minutes I received a call from Jonathan. Their service was fast, the communication was excellent, and now I have the years and years of family photos back! Thank you! I recommend Secure Data!
Miguel Bounadere
Reviewed on Jun 13, 2023 | Mascouche, QC
Jonathan''s awesome customer service!
I was afraid to use this type of service for confidentiality reasons, but a client of mine really needed to have her very important corporate data restored. I''m glad I found Secure Data Recovery. Jonathan was extremely professional and was very helpful and took time to explain the different options and plans. Then the data identified as recoverable was beyond expectations. Jonathan''s follow-ups ... Read Morewere extremely thorough and prompt. I could not ask for more. I''m sure the lab tech are as amazing as the service I received from Jonathan. It''s not a cheap service, but you know what you pay for. Not only it''s fast (in communications but also shipping), but most importantly. it''s secure which is very important with sensitive data. Also, they''re shipping back the data with an encrypted drive. I will not hesitate to contact Secure Data Recovey if I need to recover files from bad hard drive.
Dave C
Reviewed on Dec 23, 2020 | Gatineau, QC
Chris McMacken did a great job helping me recover lost data after my hard drive died.
Hilary Maccormick
Reviewed on Jun 28, 2020 | Halifax, Nova Scotia
Excellent - 10/10 would recommend Chris
Chris McMacken delivers excellent customer service. He communicated promptly and efficiently. He ensured that I understood what was happening each step of the way. I''m very happy with my experience.
John Wesson
Reviewed on Nov 15, 2019 | Ottawa, ON
I am a professional photographer who should''ve known better, but I didn''t back up my external HD. I lost over four years of work , till I discovered Secure Data Recovery and met Jake Gambatese
Data Recovery Specialist . Jake was great right from the start. He assured me that Secure would be able to advise me very shortly if they could salvage my work. Within a very short time Jake called wi... Read Moreth the great news, but I couldn''t afford the asking price. I explained to Jake that on this HD were pictures of my son before taken before the tragic end of his life. Jake said he would speak to management to see if the price could be less, and we were able to negioate a fair price. Thank you Secure Data Recovery and Jake for saving all my treasured pictures.

Why Choose Secure Data Recovery in Ottawa?
Certified and Verified Secure
Transparent Process
Trusted and Guaranteed Results
Secure Data Recovery Services operates in world-class facilities that undergo regular SSAE 18 SOC 1, SOC 2, and SOC 3 audits to verify the integrity of all cybersecurity management control systems. This means that your data is protected at every stage of the recovery process.
Each of our Lab facilities also has a certified Class 10 ISO 4 cleanroom. This specialized environment provides state-of-the-art filtration to remove potentially harmful airborne particulates that could damage the sensitive internal components of storage devices.
For more than a decade, the engineers at Secure Data Recovery Services have built a reputation as the most reliable provider of professional data recovery in the industry. Our expert team maintains a documented 96% successful recovery rate.
We maintain partnerships with every major digital storage manufacturer to ensure our custom solutions never threaten any existing product warranties. We also invest heavily in research and development to keep pace with rapidly evolving digital storage technology.
Free Data Recovery Quote
We intimately understand all data loss scenarios and will exhaust all options technologically possible to reunite you with your lost data as quickly as possible. When you choose Secure Data Recovery Services, you get the most credentialed professionals in the industry.
Service times and exact pricing for a successful recovery always depend on the specific damage to the storage, which is why we offer free, no-risk diagnostics with every standard service.
Our quotes consist of:
Price for successful recovery
Time estimates for job
Key information about the events that led to data loss
Call 613-927-1590 to speak to a data recovery expert 24x7 and schedule your free data recovery consultation with a no-obligation price quote.